Spring is the best time of the year because the weather during spring time is so suitable for regrowth of those trees and plants that lost most of their leaves in winter. Slowly by slowly there will be more peeks from the sun and the air and the soil starts to warm up. Spring in full swing is a wonderland for gardeners and botanists because trees begin to thicken their leaves making it greener and fuller, and most significantly, flowers will start blooming here and there. Europe boasts a lot of magnificent gardens and although it's quite hard to choose, we have decided to pick the top 4 mesmerizing gardens in this continent.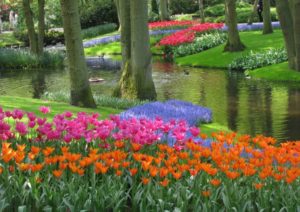 KEUKENHOF GARDENS, NETHERLANDS
Keukenhof Gardens is the world's largest flower garden, also known as the Garden of Europe. Its name translates to Kitchen Garden in English due to the fact that it is a wide source of herbs that is used in cooking during the 15th century. If tulips are your favorite flowers then this would be heaven for you. Every autumn hundreds of gardeners plant 7 million tulip bulbs of different varieties in preparation for spring. So if you want to see these picture perfect tulip fields then visit Keukenhof Gardens around March to May each year.
MONET's GARDEN, FRANCE
Claude Monet's Oriental Floating Garden painting was conceived here in this beautiful flower garden in France. Aside from his stunning Impressionist paintings, Monet also worked hard in putting up together this famous garden. He spent the last 40 years of his life in this sweet splendor of poppies, peonies, sunflowers, daffodils, primroses and so much more. The garden is divided into 2, the flower garden and the Japanese-inspired water garden and both are just fantastically pleasing to the eyes.
ROYAL BOTANIC GARDENS, ENGLAND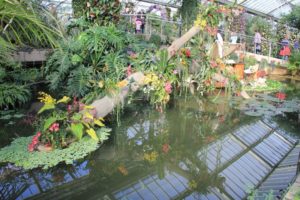 This vast garden in Kew, London is much worthy to be named as a UNESCO World Heritage Site. A magical place for people from all ages, and is home to more than 50,000 different species of plants. Aside from the beautiful riot of colors, the garden boasts distinct landscapes and iconic buildings from renowned architects. Their plant and tree collections are from all over the world so expect to see bamboos, cherry blossoms and other tropical plants here.
ROSE GARDEN, SPAIN
Roses are just hard to resist and visiting an actual rose garden would be a definite treat. From May to June, the Rose Garden in Madrid, Spain is at full bloom. Unlike the other gardens on the list, this one is relatively small in size, but the beauty of the blooming roses of all shapes, colors and sizes make up for the small area.